I used to joke around all the time in school and make Fight Club jokes like "The first rule of college is: Every good night has its next morning.", and while that's STILL true, the nights have changed a bit, and thus the consequences too, have changed!
In any one week period when you're dieting and working out this hard, it hurts to see a POSITIVE number. I've just been trying to keep in mind this time around, that my diet about feeling better, both physically and mentally, not just dropping the weight.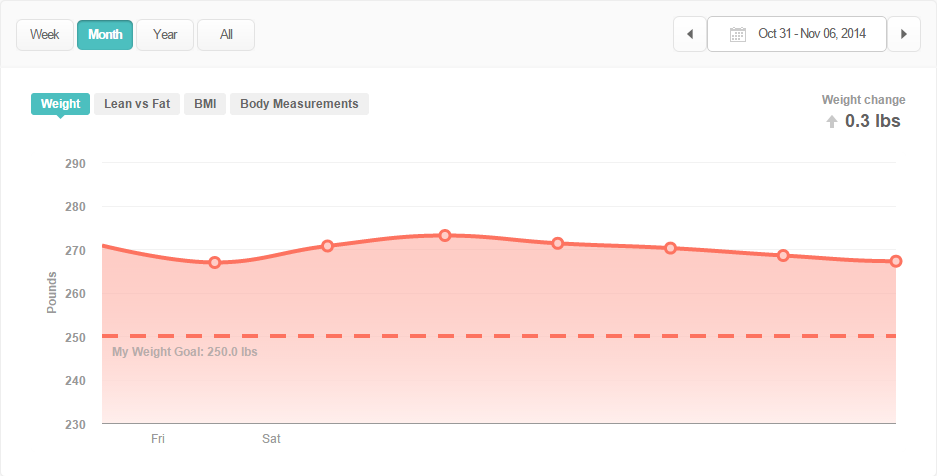 So yeah, Halloween weekend stung a little bit. Between a good friends birthday dinner, some after party drunken snacking, etc… I knew going into it, the weekend could hurt a little bit. So, like the title says, the bigger the night(s), the bigger the bounce. In 2 days, my weight actually fluctuated nearly 6 pounds up and as some of you remember, this same thing happened during my 2 week road trip, and in similar fashion, 1 week later, I've burned it all off.
The amazing part here is that while my weight might be bouncing around a little bit when I go out and party a little too much, my body is physically still getting smaller, which really is the end goal, right?? I also know, as many people have told me, that weighing myself every day isn't a good idea. I simply disagree with this one. I'm a "science" guy, I like to collect all the data. I actually feel more confident and happier knowing that if I go out and drink and eat like "the old me" one weekend, I now have the confidence, having proven it to myself TWICE, that in a week or less, I can drop all the weight and get right back down to where I was before my little indulgence.
While these bumps have slowed my overall progress toward "the number", at the time of this post, I've still lost 40.8 pounds and nearly 6 inches off my waist. Bump or not, that makes me happy!
Bottom line here is, I feel amazing, I'm looking better every day, I'm enjoying my time with friends, and I'm even enjoying my workouts too. I'm learning how to cook healthier meals for myself, developing new levels of self-control in relation to snacking and my "cheat days" and I'm well on my way down the road of making those permanent lifestyle changes that I'll need to keep this up for a long time to come.
So, while these bumps surely do happen, there is no way I'm ever going to let one stop me.