Ok, well maybe not… I'm human of course. A human who eats deep-fried Catfish Po'Boy's and drinks beer all day…. However, I did come home and slam out 21 not very sober minutes on the treadmill.
That's not even close to the awesome news though… the GREAT part is my 1 mile time from earlier today. Just when I thought I was doing well yesterday…. at 9:45, NOPE! I woke up this morning and did a mile in 9:35. SO AWESOME!! I've shaved 9 minutes of my mile time now and I love it!

Other than that… it was a pretty solid workout today. Over an hour of cardio for a total of 440 calories burned. All said and done, it was a great day!!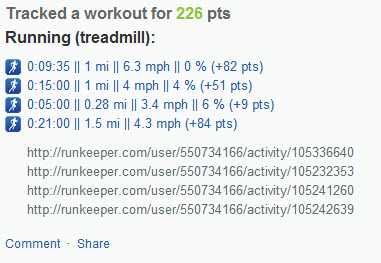 No off to a few celebrations this evening! 🙂 See you all out there!!