After being in a bit of pain yesterday and having to take another rest day… I decided I really needed to just get back up and workout, but I was take it down a notch. So instead of pushing myself to get sub-ten minute miles again, I slowed it down a lot and just basically decided to walk it out, and hit the rowing machine a little more since they're both much lower impact.
40 minutes of walking, 40 minutes of rowing and only about 12 minutes of running just so I could say I did it! 😉 I was able to burn over 700 calories still, and for just losing weight… that's what counts.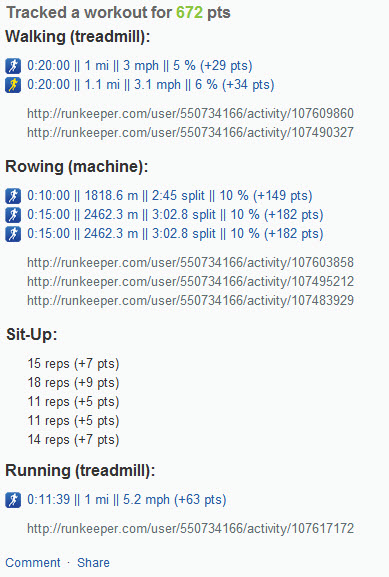 Yes, I did some situps too… I've been concentrating so much on weight-loss, it was good to take a bit of a break in there. I am really feeling the burn during my situps and pushups though, I think its time to really start lifting and building some more muscle!