Remember… that time…. when I said I would just take it slow, walk it out and try to make sure I don't push myself because I was already in pain? FAIL!
Today I was in serious pain… a lot. NO MORE RUNNING FOR A BIT. I've got to slow it down and take it easy… so for today's workout, I really did do nothing but walk. 90 minutes and 633 calories over it… but this time at least I didn't feel even the slightest pain when I was done.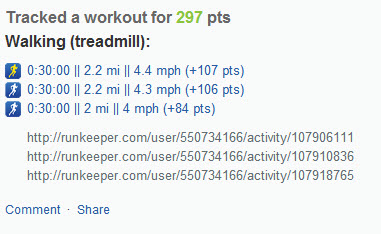 The only annoying part here is the weight-loss progress. I was so close to hitting that 40 pound mark and woke to a weight GAIN the next day…. and now I just haven't been able to get back there. I do know, the most important thing here is to keep moving, stick to my diet and it will come back… so I'm just going to keep working out, keep eating right, and make sure I maintain my 2500 calorie a day deficit.