We all know it happens, and yes, I knew it was going to happen too. I drank my waters, I watched my calorie intake very carefully and I ran my ass off for DAYS to prepare to battle the holiday bounces. Well, bounce number 1 is done, and it was a big one. Between the amazing stuffing, mashed potatoes, dinner rolls, incredible bacon wrapped hourdourves, and of course, some pretty damn good turkey, the first big holiday bounce in my weight has happened. This mornings weigh-in was a gain of 4.5 pounds!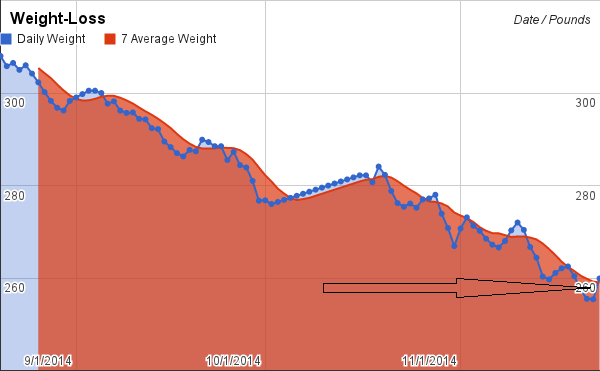 The crazy part is, 4.5 pounds is NOT hard to do. I didn't eat until I felt sick, I didn't stuff my face constantly, hell… other than eating a few extra dinner rolls at the end of the night to try to soak up some of the amazing amount of beer and prosecco I had consumed, I didn't really go too overboard. What this really is, is a lesson in metabolism. While my normal diet is about 1000 – 1200 calories a day, and my normal day includes at least two 45 minute workouts, when you don't work out at all and you consume what has to be at least 3,000 if not 4,000 calories, your body just isn't going to know what to do with it.
You can just barely see in the chart to the left that huge pop up in the blue line, which is my daily weight. You'll be able to see it a little easier in the charts on the current weight-loss progress page, both this one and the big drop in my daily weight-loss totals chart in yellow below it. The question now becomes, how long will it take to defeat the first holiday bounce of the season?
Today may be a bit of a loss for me from a workout perspective. It's almost 2pm and I'm just barely getting up and moving. Between all the workouts over the last few days and staying out WAY too late last night, I don't really see myself crushing 2+ workouts today. I will surely try to get in at least one this evening, but I am 100% back on my normal diet and back to regular intake of food and water, so if my body stops feeling like it was crushed under a beer truck last night… I can get up and get in a solid workout tonight. Then for the next two days I need to really be on top of my workouts and diet with the goal being to defeat this first bounce by the time I leave for New York to spend the holiday with my family and jump head first into T-Day: The Battle of The Bounce – Round Two! 😉
Last, but certainly not least… and even-though it was a bit of a dinger to my diet… I want to thank our hostess from last night, Jess. She's not only throws a great party, but has become such an amazing friend over these last few months. Yelling at me when I'm not working out enough, continuing to motivate and encourage me to push forward and keep things moving in the right direction. She always there to send over some words of encouragement or a much needed compliment, she's given me great diet tips, running advice, constant suggestions on how to change things up and keep things interesting, and of course… when she finally catches me off-guard enough, she'll probably be the first one to finally convince me to commit to running a half-marathon. She's already been trying for weeks!! 😛