It's going to be a long day of hangin out, BBQ'ing, taking pictures and without a doubt my diet will not be made up of the best foods I've eaten in the last few weeks. So, to make sure I stay on top of things, I ate right this morning and got in a solid 1:05 of cardio this morning between both of my runs. One for 3.15 miles in 50 minutes and burned 391 calories and a second for 1 miles, 15 minutes and 129 calories.
Also, I decided to press on a bit with the One Hundred Pushups program, so I started Week 2, Day 1… it was actually a little harder on my arm than I expected, but I'll keep pressing on and/or reset and do this day again tomorrow.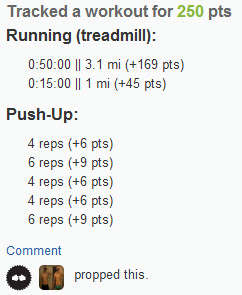 I hope everyone has a great holiday, eat some good BBQ and maybe blow a few things up! 🙂 Happy 4th of July!!