So… a lot of people have been talking about it and wondering what a CrossFit Functional workout is. This excerpt it taken directly from a document titled "Understand CrossFit":
"The CrossFit prescription is "constantly varied, high-intensity, functional movement." Functional movements are universal motor recruitment patterns; they are performed in a wave of contraction from core to extremity; and they are compound movements—i.e., they are multi-joint. They are natural, effective, and efficient locomotors of body and external objects."
My good friend Suzie has been so helpful these last few weeks with advice, encouragement, compliments and really helping me stay motivated, learn how to not only workout better, but eat better too. As if that wasn't enough, she invited me down to her gym today to help show me some of the basic exercises I can't start doing at home to target different muscle groups and help fight these little weight plateaus I keep hitting.
So, This morning began my first CrossFit functional style workout. We jumped on the rowing machines for a while, did pushups, sit-ups, ball slams, burpees, and even went outside to push a sled called the prowler around a bit. Needless to say, but the time we were done…. my EVERYTHING hurt. It was def one of the most varied but fun workouts I've done since I've started Operation Get Skinny.
I also found out that I LOVE the rowing machine, and after a little research, learned that it's an amazing way to workout. It's one of the highest calorie burning workouts, targets your full body and is basically zero impact. Looks like I'll be looking to buy a rowing machine ASAP. In fact, I already did a quick search on craigslist and found there's plenty to choose from in the DC area. I'll handle that purchase as soon as I get back from my travels this week.
So, anyway, in my typical workout post fashion, here's the stats for a lot of the workout we did this morning: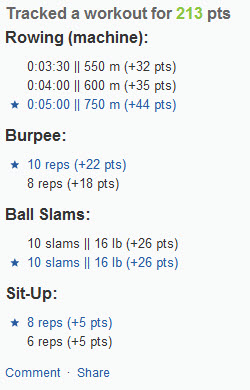 Def a great workout. I'm nice a sore, felt like I pushed myself in ways I hadn't before and it feels great. It really has become a bit of an addicting feeling!!