And…. the weigh-in I had been waiting for, home, on my own scale, and… BOOM!!! Another all time low weigh-in, as expected that other scale wasn't too far off at all. When I left, I was 245.5 and when I came back this morning……. 244 on the nose!! So, with traveling, not having my normal food to eat, having to grab Chipotle and eat out with friends a little, I actually managed to lose 1.5 pounds while I was gone!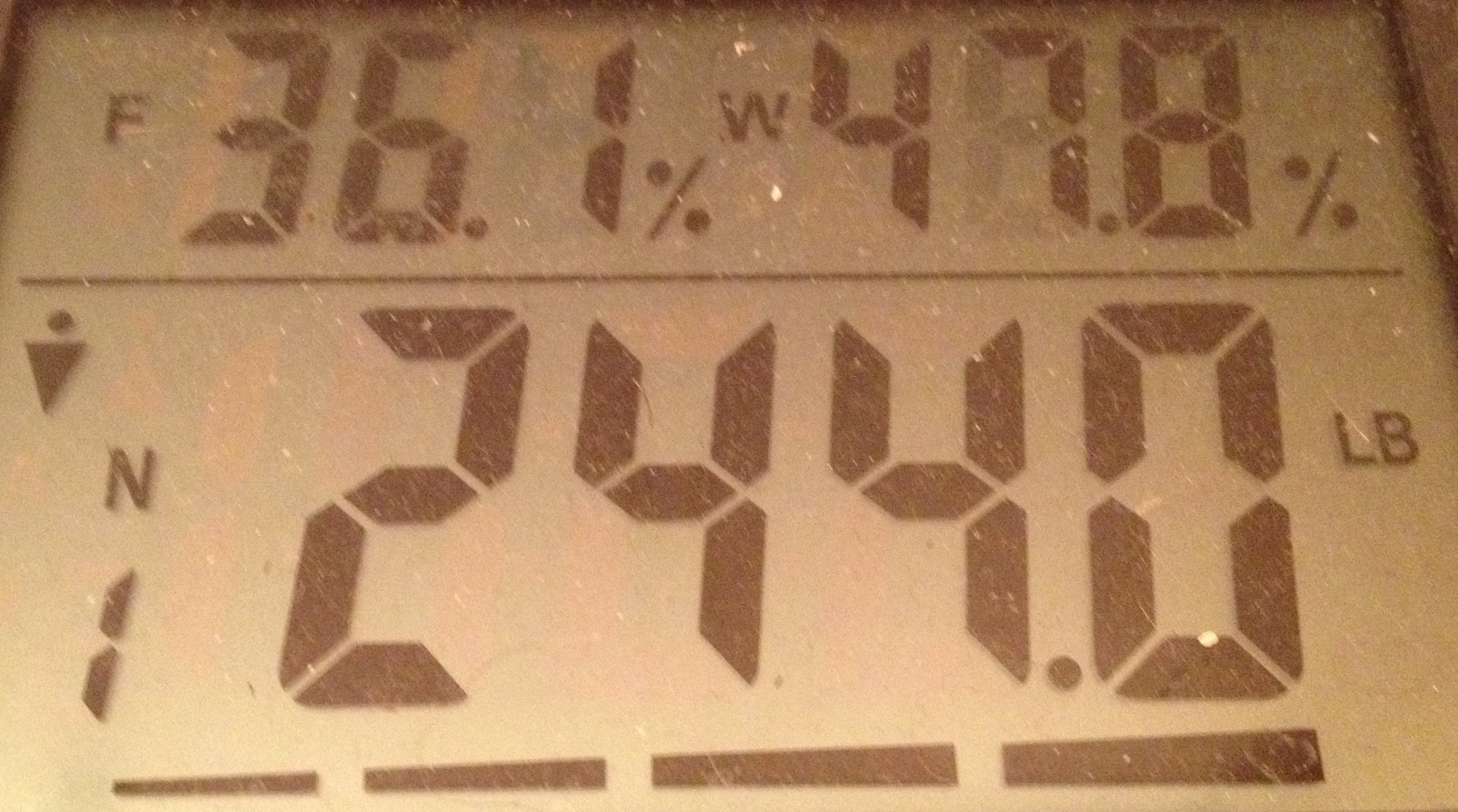 So, my secret: portion control, healthy options and continuing to log food. Even when I went to Chipotle it wasn't bad at all. I found out while I was sitting in the airport, they have every single bit of their nutrition info printed on the back of their menu, and if you go to their online nutrition calculator, it'll do all the adding for you! It turns out, if you pick and choose your ingredients carefully, you can actually get a pretty reasonable meal out of it. I basically had a burrito bowl, leaving out the 120 calorie cheese or the 190 calorie flour tortilla, and with chicken, a little lettuce, some brown rice and beans you wind up with a FAST, filling, under 500 calorie meal with not a single "bad" thing in it. Def not bad at all!!
Also, when out with other friends… I wound up eating at a bar while having a water, of course, but again it wasn't hard at all. I ordered a grilled chicken sandwich, only ate a little piece of the bread and go the fries replaced with a side salad.
Like I said, I'm def getting used to eating this way and while its nice to have a cheat day from time to time, taking the normal options around you and making them a little healthier really isn't difficult at all! 🙂
I'm thrilled to be home from a work trip and find I've actually lost a little weight. Before leaving, I had thought "as long as I don't gain anything, I'm okay"…. well, mission accomplished! 🙂  🙂