Oh yeah… you heard me… THATS, how it's done! 😛 For those of you who haven't discovered Fitocracy yet, its def worth checking out! (click here :-P) I think I've explained it before… but for those of you who haven't been reading often enough: It's basically an iPhone app and a website that helps you log your workouts. Every exercise you do, you enter into the app and keep track of how you're doing.
Not only does it assigned a point value to each rep or each minute of your workouts, but it lets you compete with other friends, share your workouts on Facebook, Twitter and Tumblr… you get little badges for reaching certain levels, like your first 10 minute mile, how many times people comment on your workouts, personal records, etc… Another great thing about it, is that it actually lets you view charts and graphs of all your work so you can track your performance over time.
And of course, when you all sign up, be sure to follow me "scastano" and we can battle a little bit and compare workouts! 😉
For those of you that ARE on there already, you'll know… 1010 points in a single day, is def a solid workout!!! It wasn't easy, but I'm really hoping to shed that next .6 pounds and hit the 40 pounds lost mark tomorrow! Keep your fingers crossed for me!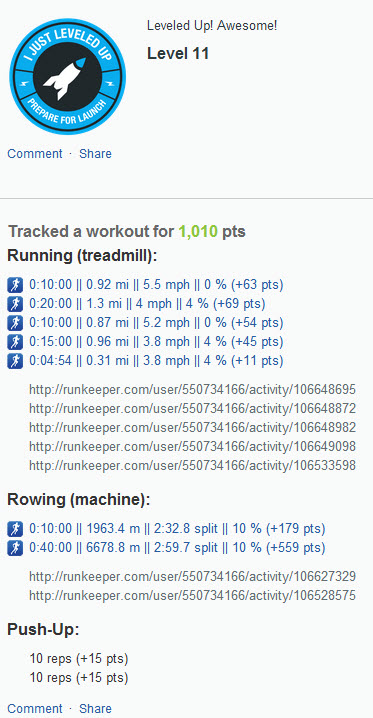 And yes… you're right… I hadn't planned on doing those 20 push-ups at the end, but I was pissed that I was so close to 1000 points that I couldn't let it go. So 20 push-ups to get me over the hump it was! 😛