What a crazy month it's been. There's been plenty of ups and downs, both in my weight-loss and the rest of my life as well, but… over the course of the last month's Biggest Loser contest, I've managed to lose 27.2 pounds. That means since the start of my little 2017 weight-loss journey, I've actually lost 39 pounds. My original first goal was to get out of the 300 club by the end of March, and somehow, against all odds, I find myself 2.2 pounds away on March 1st. How awesome would it be to reach my goal by birthday this coming Saturday?!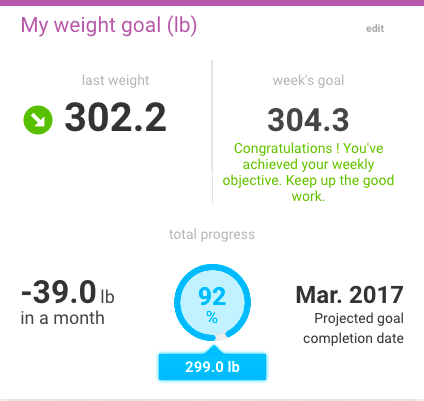 One of the most amazing things about this past month has been the willingness of my friends to join me in part to support me, as well as to get some support and motivation themselves as well. They are such a broad range of people in every way, from one friend I've known for nearly a decade to another I met just a few short months ago. Both male and female, starting all at different points that spanned almost a 160 pound difference. So, while I always thank the people around me for encouraging me, sending me helpful tips, even just noticing when they see me that I "look a little different", that's all always such a big help, but this month a very special 1000 thank you's go out to Lena, Alec, Joe, Javier, Vik, Damien and Ashley for tossing their $50 in a being a part of this little month-long competition. Not only did we, together, loose over 85 pounds together but your motivation and encouragement has been invaluable. As if losing this weight isn't already uplifting enough, to know I have friends who are willing to join me on this journey has made it one of best months I've had in a long time. So again guys, 1000 time, sincerely, thank you for all your help!
    While my ultimate goal is still a long way off, at least many months if not a year, I'm off to a great start. I should hit my first goal nearly a month early, set me next one very soon and while this Biggest Loser contest might be over, I am 100% up for starting another one that's maybe a little longer term with anyone out there who's willing to give it a shot. Trust me, if you even feel half as good as I do right now, it's totally worth it.
    Also, for anyone who wants to keep track of where I'm at along the way, competition or not, this diet and weight-loss will continue and I've just updated my current weight-loss page to show all the current numbers. If you check it out, just be prepared, I'm a nerd… there's a lot of numbers there! hahaha