Yup, you read that right. As July, and my cousin's wedding get closer, there's just that much less of me. Literally. I surely have been sticking to my diet, even-though last few months have been crazy. I've also been doing little workouts when I can at home just to keep things moving. The best thing about it is, it's working.
     I've still got a few pounds to drop before I reach my next goal. I set it at 250 pounds by the start of July, as I've mentioned a few times before. So, as of this morning, not only have I hit my lowest weight yet at 254.8 pounds, but that also leaves me 11 days to lose the last 4.8! I think I can do it!
     Another good friend also pointed out that I haven't been posting much lately, which is true. Honestly, there's been so much going on that I barely have enough time to squeeze in my workouts and do what's needed to follow my diet. As my weight gets lower, it is a little harder to drop the pounds. I'm still losing weight, and according to my measurements, I'm still getting physically smaller, which is exactly what I want! Hopefully as things calm down a bit after the wedding and I've got some more time on my hands I can get back to a little more outdoor physical activity. That being said, any who's up for a little adventure let me know. We can go hiking, kayaking, cycling, I'll try just about anything at this point!
     As always, here a few little charts that show my progress over the past month. The first is my daily weight chart. My weight is the blue line, the orange line is the schedule to reach my goal.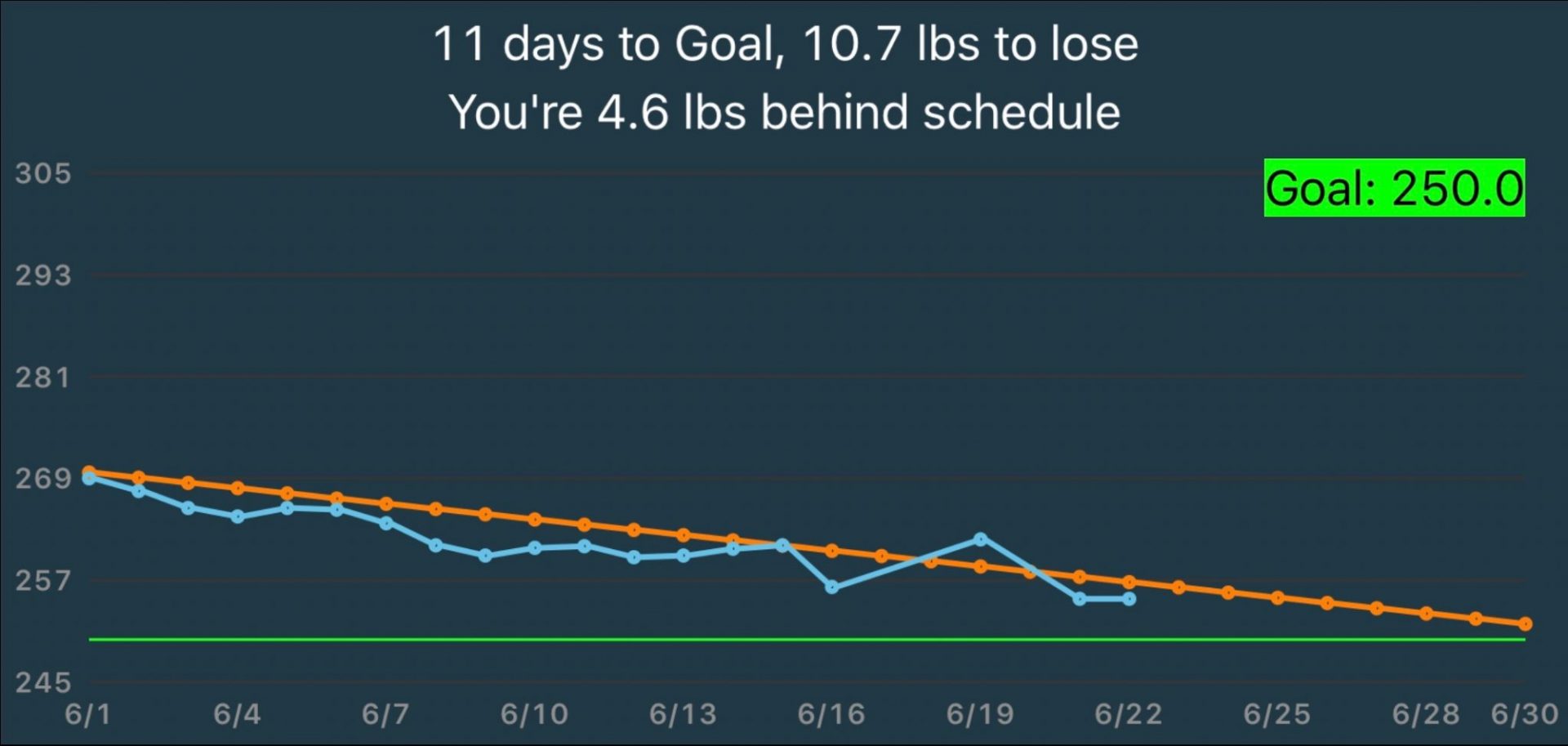 The chart isn't really a graph, but it's still awesome! It's actually the chart of my measurements since I've started this diet. The biggest, best number on here is that I've lost over 6 inches off my waist. That's huge!!

     Also, don't forget! You can always check this page to see my current weight-loss progress, it's updated EVERY day. There is also a link to it in the sidebar, or at the bottom of the page if you're on a mobile device. It's there for every post about my weight-loss!