So… apparently, I'm in need of a major catchup. I finally got an email from some friends and a few text about people wondering if I've been slacking. The answer is pretty simple:
HELL NO!!!
How much of a punk would I look like if I walk around saying "No pain, no gain", "All go, no stop, never quit" and "Failure is not and option!" And then… I just gave up?! Sorry guys, ain't gonna happen!
The truth is… life has heated up a bit, I've been insanely busy and there hasn't been time for everything. The good new is: The *ONLY* part of Operation Get Skinny I let slack was the blog. If you take a look at my stats page again, you'll see my calories logged everyday, workouts almost every day… I had to take a few off because I pushed myself too hard and I'm definitely still dropping weight and sizes!!
Currently, I've lost over 45 pounds, 7.8″ off my waist and I've been getting in better and better shape everyday. Once I get my muscles a chance to rest, I even beat my sub-10 minute mile goal but a LONG way. Just 2 days ago, I actually managed to run 1 mile in 8 minutes, 15 seconds.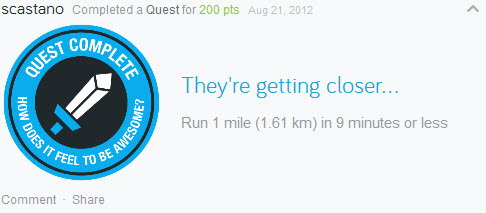 I've also amassed a huge number of points on Fitocracy and set multiple additional personal records for my running in total distance and time.
Even those jeans I bought 3 or so weeks ago don't fit anymore. Granted my daily average weight-loss has gone down a bit, and according to my match, I'm projecting hitting 90 days at around 56 pounds lost, just shy of my 60 pound goal… but I'm not stopping yet!! Even I don't make it… I'll work my ass into the ground everyday past 90 until I do!!